Welcome
It's the time of year for presents! Don't forget to give some of your own!
Getting gifts for the holidays is always lots of fun. As you grow up, though, you'll start to notice that there's something even better than getting what you wanted: giving somebody else what they want. Even science shows that thinking about what others enjoy and giving it to them can make you happy.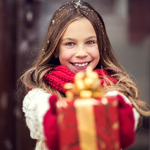 Who do you know that deserves a gift? What can you give them? Even if you don't have much money, you'll have some fun showing them you care. Remember, it's the thought that counts!
Tell a story. If you like someone, it's probably because you have good memories together. Get some nice paper and a pen and write down some stories from the good times you shared. If you like to draw, you might even add a picture.
Bake them something sweet to eat. The ingredients for cookies don't cost a lot, and your friends will feel special for all the work you put into baking them. You can make your cookies even better by frosting them with a design depicting an inside joke you both remember.
Give them something special to you. Maybe you've had a friend over to your house and you had a lot of fun with a certain videogame. There are always new videogames to play, so if you've had it for a long time, you could give the game to your friend as a gift. It doesn't mean you'll never play it again: now you'll just play it at their house!
Pay attention to what they like. Listen carefully to what a person has to say. Most people are happy to tell you all about the things they like. Once you know what they're interested in, keep an eye out for something small to give them that shows you've been thinking about them.